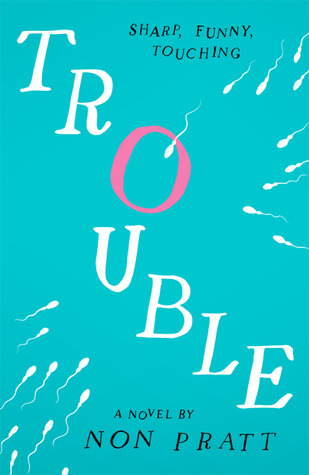 In this dazzling debut novel, a pregnant teen learns the meaning of friendship—from the boy who pretends to be her baby's father.
When the entire high school finds out that Hannah Shepard is pregnant via her ex-best friend, she has a full-on meltdown in her backyard. The one witness (besides the rest of the world): Aaron Tyler, a transfer student and the only boy who doesn't seem to want to get into Hannah's pants. Confused and scared, Hannah needs someone to be on her side. Wishing to make up for his own past mistakes, Aaron does the unthinkable and offers to pretend to be the father of Hannah's unborn baby. Even more unbelievable, Hannah hears herself saying "yes."
Told in alternating perspectives between Hannah and Aaron, Trouble is the story of two teenagers helping each other to move forward in the wake of tragedy and devastating choices. As you read about their year of loss, regret, and hope, you'll remember your first, real best friend—and how they were like a first love. (via Goodreads)
---
Title: Trouble
Author: Non Pratt
Published: February 20th 2014 by Walker
Rating: 3.5
Review: I bought this book because the premise seemed ridiculous and there were little sperm on the cover. I'm sorry, but if I see a YA novel with sperm on the cover I'm probably going to see what's up.
Trouble was a cute book. If I had to describe the book in one word it would be cute. I liked the main characters, Hannah and Aaron, although I liked Aaron a little more than Hannah. I thought Hannah was kind of bitchy before her pregnancy, but she ended up growing on me throughout the story. I though Aaron was sweet and in a way he reminded me of Charlie from The Perks of Being a Wallflower. I liked the supporting characters, such as Neville, Hannah's Gram, and Hannah and Aaron's friends.
I predicted who the father of Hannah's baby was almost right away, and I also saw the romance coming from a mile away; I feel like that made the book slightly anticlimactic, hence the 3.5 stars.
I liked the writing and the pacing of the novel, and I loved the alternating perspectives. I loved being able to be in both main character's heads; it made the story more fun. I was also right about the premise being ridiculous – who just agrees to being someone's fake baby-daddy? Insanity. But kind of clever.
I thought this book was unique enough to catch my eye and realistic enough to be believable, but nothing about it really wowed me.
This book, however, did manage to pull me out of a reading slump. So that's nice.