Everyone loves book recommendations and here at The Little Book Affair I like to give them. Today I'll be recommending 5 great books that have switching perspectives. I'm definitely a sucker for multiple POV's, and I hope you all enjoy these books too. 🙂
---
Theodore Finch is fascinated by death, and he constantly thinks of ways he might kill himself. But each time, something good, no matter how small, stops him.
Violet Markey lives for the future, counting the days until graduation, when she can escape her Indiana town and her aching grief in the wake of her sister's recent death.
When Finch and Violet meet on the ledge of the bell tower at school, it's unclear who saves whom. And when they pair up on a project to discover the "natural wonders" of their state, both Finch and Violet make more important discoveries: It's only with Violet that Finch can be himself—a weird, funny, live-out-loud guy who's not such a freak after all. And it's only with Finch that Violet can forget to count away the days and start living them. But as Violet's world grows, Finch's begins to shrink.
This is an intense, gripping novel perfect for fans of Jay Asher, Rainbow Rowell, John Green, Gayle Forman, and Jenny Downham from a talented new voice in YA, Jennifer Niven.
Why I recommend it: All the Bright Places sucked me in from the very beginning. It made me feel all of the feels, and I enjoyed being in both character's heads. So far, it's my only 5 star book of 2016.
 Three lives, three different paths to the same destination: Aspen Springs, a psychiatric hospital for those who have attempted the ultimate act — suicide.
Vanessa is beautiful and smart, but her secrets keep her answering the call of the blade.
Tony, after suffering a painful childhood, can only find peace through pills.
And Conner, outwardly, has the perfect life. But dig a little deeper and find a boy who is in constant battle with his parents, his life, himself.
In one instant each of these young people decided enough was enough. They grabbed the blade, the bottle, the gun — and tried to end it all. Now they have a second chance, and just maybe, with each other's help, they can find their way to a better life — but only if they're strong and can fight the demons that brought them here in the first place.
Why I recommend it: Ellen Hopkins does a great job of telling the story of three teenagers who are in a mental health facility because they're all on suicide watch. Watching how their stories intertwine is interesting, and there's an ending you didn't see coming.
Two misfits.
One extraordinary love.
Eleanor… Red hair, wrong clothes. Standing behind him until he turns his head. Lying beside him until he wakes up. Making everyone else seem drabber and flatter and never good enough…Eleanor.
Park… He knows she'll love a song before he plays it for her. He laughs at her jokes before she ever gets to the punch line. There's a place on his chest, just below his throat, that makes her want to keep promises…Park.
Set over the course of one school year, this is the story of two star-crossed sixteen-year-olds—smart enough to know that first love almost never lasts, but brave and desperate enough to try.
Why I recommend it: The switching perspectives in this book were absolutely fantastic and did such an incredible job of capturing who Park and Eleanor were, not just as characters but as people. E&P is a must read as far as I'm concerned.
4. Trouble by Non Pratt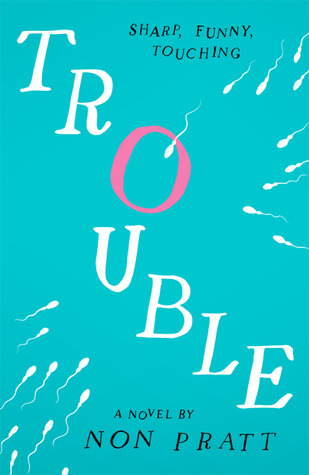 In this dazzling debut novel, a pregnant teen learns the meaning of friendship—from the boy who pretends to be her baby's father.
When the entire high school finds out that Hannah Shepard is pregnant via her ex-best friend, she has a full-on meltdown in her backyard. The one witness (besides the rest of the world): Aaron Tyler, a transfer student and the only boy who doesn't seem to want to get into Hannah's pants. Confused and scared, Hannah needs someone to be on her side. Wishing to make up for his own past mistakes, Aaron does the unthinkable and offers to pretend to be the father of Hannah's unborn baby. Even more unbelievable, Hannah hears herself saying "yes."
Told in alternating perspectives between Hannah and Aaron, Trouble is the story of two teenagers helping each other to move forward in the wake of tragedy and devastating choices. As you read about their year of loss, regret, and hope, you'll remember your first, real best friend—and how they were like a first love.
Why I recommend it: The switching perspectives in Trouble are written in a similar style to Eleanor & Park. The story is also a cute little story.
Humans and androids crowd the raucous streets of New Beijing. A deadly plague ravages the population. From space, a ruthless lunar people watch, waiting to make their move. No one knows that Earth's fate hinges on one girl.
Cinder, a gifted mechanic, is a cyborg. She's a second-class citizen with a mysterious past, reviled by her stepmother and blamed for her stepsister's illness. But when her life becomes intertwined with the handsome Prince Kai's, she suddenly finds herself at the center of an intergalactic struggle, and a forbidden attraction. Caught between duty and freedom, loyalty and betrayal, she must uncover secrets about her past in order to protect her world's future.
Why I recommend it: This whole series is just an overall fantastic series that will keep you entertained from beginning to end. The alternating perspectives are what really make this book, and as the series goes on you get even more character perspectives. However, it's never overwhelming and each character has a unique voice.
---
Those are 5 books that I recommend that have awesome switching POVs. Are there any books you've read and recommend with multiple perspectives? Let me know! 🙂