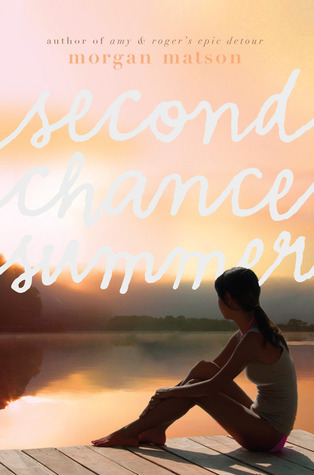 Taylor Edwards' family might not be the closest-knit—everyone is a little too busy and overscheduled—but for the most part, they get along just fine. Then Taylor's dad gets devastating news, and her parents decide that the family will spend one last summer all together at their old lake house in the Pocono Mountains.
Crammed into a place much smaller and more rustic than they are used to, they begin to get to know each other again. And Taylor discovers that the people she thought she had left behind haven't actually gone anywhere. Her former best friend is still around, as is her first boyfriend…and he's much cuter at seventeen than he was at twelve.
As the summer progresses and the Edwards become more of a family, they're more aware than ever that they're battling a ticking clock. Sometimes, though, there is just enough time to get a second chance—with family, with friends, and with love. (via Goodreads)
---
Title: Second Chance Summer
Author: Morgan Matson
Published: May 7th 2013 by Simon & Schuster Books for Young Readers (first published May 8th 2012)
Rating: 5 stars
Review: Do you ever read only a little bit of a book and just know right away that you're going to love it? That's how I felt with Second Chance Summer. Of course, I knew I was going to love it because Morgan Matson wrote it. I also thought I would like it because it takes place in the Poconos, and I happen to live in the Poconos.
And I was right – I absolutely loved this book. I flew through the pages of this book pretty fast. Once I started really reading it I couldn't put it down.
I love how Matson writes her characters, they're so three dimensional. She adds so much depth to her characters that it makes it seem like you're reading a book about real people. It makes the book highly enjoyable and it helps you relate and connect to them. I also love the relationships Matson writes. The relationship between Taylor and her father was simple, yet beautiful. You get to watch Taylor's relationship with her father and the rest of the family grow and I really liked that.
The relationships between Taylor, Henry, and Lucy were fun to read about, and I was really  rooting for them. They were another bunch of damaged relationships that I had enjoyed reading about and watching as Taylor fixed them.
By the end of the book my heart was heavy, my eyes were teary, and I was sad, yet happy.