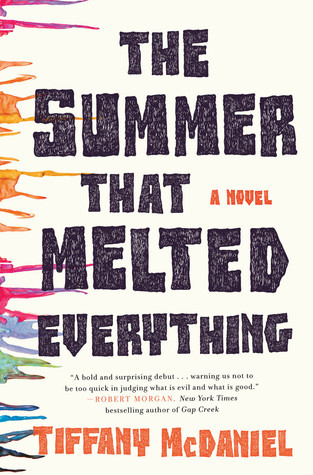 Fielding Bliss has never forgotten the summer of 1984: the year a heat wave scorched Breathed, Ohio. The year he became friends with the devil.
Sal seems to appear out of nowhere – a bruised and tattered thirteen-year-old boy claiming to be the devil himself answering an invitation. Fielding Bliss, the son of a local prosecutor, brings him home where he's welcomed into the Bliss family, assuming he's a runaway from a nearby farm town.
When word spreads that the devil has come to Breathed, not everyone is happy to welcome this self-proclaimed fallen angel. Murmurs follow him and tensions rise, along with the temperatures as an unbearable heat wave rolls into town right along with him. As strange accidents start to occur, riled by the feverish heat, some in the town start to believe that Sal is exactly who he claims to be. While the Bliss family wrestles with their own personal demons, a fanatic drives the town to the brink of a catastrophe that will change this sleepy Ohio backwater forever. (via Goodreads)
---
About The Author:
 An Ohio native, Tiffany McDaniel's writing is inspired by the rolling hills and buckeye woods of the land she knows.  She is also a poet, playwright, screenwriter, and artist.  The Summer that Melted Everything is her debut novel.
---
Q & A:
Q: Did you always know you wanted to be writer?
A: I have. As a child, writing was the first thing I remember doing without any external influence or direction. I've always been drawn to story. Reading it. Creating it. Living with it. I'm lost without writing. It's my compass. I can't find my way home without it.
Q: What inspired you to write The Summer That Melted Everything?
A: The inspiration question is always a little difficult to answer, just because it's hard to bring creativity down to a science. So I always say I find the characters themselves inspiring. They hover around me as I write, encouraging me, demanding even, that I write for them the best beginning, middle, and end of a story that I possibly can. I owe that to the characters. I owe that to the readers.
Q: Has the first line of the book stayed the same since the beginning or have you changed it up a bit?
A: It's stayed the same. I always start writing a new novel with two things. The title and the first line. These two things really lead the rest of the story. The first line is really what starts it all.
Q: What advice would you give new writers?
A: To never give up. I wrote my first novel when I was eighteen. I wouldn't get a publishing contract until I was twenty-nine. It was eleven years of rejection and fear I'd never get published.  This is the narrative so many authors have. The road to publication can be painful. It can be heart-breaking. But don't get discouraged. Believe that you will see your name on a book one day. Never lose faith that the rocket ship to the stars is waiting on you.
Q: I think it's really interesting how on your website you have your own artwork that correlates with the book. Have you always created artwork to go along with your writing?
A: I love art and for me when I create images of the characters and their scenes, it's adding another layer to the story.  As a kid I always illustrated my stories. As I got older and my writing became less picture-based and more text-based, I still continued to create images.  Art helps bring the story to life. If anything it allows the characters to breathe just a little bit more.
Q: What's next for you now that The Summer That Melted Everything is published?
A: I have eight completed novels and am working on my ninth. The novel I'm hoping to follow The Summer that Melted Everything up with is titled, When Lions Stood as Men. It's the story of a Jewish brother and sister who escape Nazi Germany, cross the Atlantic Ocean, and end up in my land of Ohio. Struggling with the guilt of surviving the Holocaust, they create their own camp of judgment. Being both the guards and the inmates, they punish themselves not only for surviving, but for the sins they know they cannot help but commit.
---
The Summer That Melted Everything is for sale now! I already have my copy and I've enjoyed what I've read so far, so make sure you pick up a copy of your own!
Huge thank you to Tiffany McDaniel for doing a Q & A with me 🙂
Amazon | Barnes & Noble | Books-a-million | Indiebound | Powell's