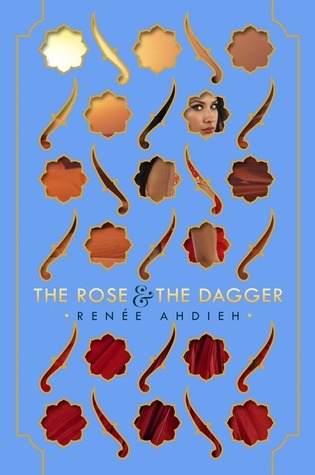 In a land on the brink of war, Shahrzad has been torn from the love of her husband Khalid, the Caliph of Khorasan. She once believed him a monster, but his secrets revealed a man tormented by guilt and a powerful curse—one that might keep them apart forever. Reunited with her family, who have taken refuge with enemies of Khalid, and Tariq, her childhood sweetheart, she should be happy. But Tariq now commands forces set on destroying Khalid's empire. Shahrzad is almost a prisoner caught between loyalties to people she loves. But she refuses to be a pawn and devises a plan.
While her father, Jahandar, continues to play with magical forces he doesn't yet understand, Shahrzad tries to uncover powers that may lie dormant within her. With the help of a tattered old carpet and a tempestuous but sage young man, Shahrzad will attempt to break the curse and reunite with her one true love. (via Goodreads)
---
Title: The Rose & the Dagger (The Wrath and the Dawn #2)
Author: Renée Ahdieh
Published: April 26th 2016 by G.P. Putnam's Sons Books for Young Readers
Genre: YA, Fantasy, Romance
Rating: 🌟🌟.5
Review: There are spoilers in this review so read ahead at your own risk.
If I could sum this book up in one word it would be boring. If I could sum up this whole series it would be disappointing.
The Rose & the Dagger was, honestly, severely lacking compared to The Wrath & the Dawn. I kept reading on to see if it would hopefully get better but the more I read on the more I found myself detached and not caring for the characters. I thought Shahrzad was extremely whiny and I just found her to be very annoying. I also go tired of reading about how beautiful Shazi is – I get it, she's gorgeous. We all get it. The saving grace of the novel was Tariq, Rahim, and Irsa. I was team Tariq pretty much from the get-go. I feel like the characters that were mad at Shazi for defending Khalid were completely justified. Tariq had every right to be upset. He's over here confessing his undying love for Shazi over and over and she's over there, being angry and angsty trying to figure out a way back to Khalid. It took nearly the whole book before I was okay with the Shazi / Khalid romance.
I'm a little upset at the death of Rahim, I personally found that his death to be unnecessary. I feel like Irsa had been through enough and Rahim was the only person she had. Unfair death is unfair.
I totally called during the first book that there was something off about Jahandar. I personally wasn't moved or anything that he decided to sacrifice himself for Khalid because if he hadn't killed Khalid in the first place he wouldn't have had to sacrifice himself.
Renée Ahdieh has a very nice writing technique, and I will probably consider reading something else she publishes. I'm just a little disappointed because I was ready to be amazed by these books and I just wasn't. But I definitely see how someone could be! I think I just went into these books expecting too much, and then once I found some little things I didn't like it became too easy to notice all of the other things I didn't like as well.
Personally, I think if Ahdieh had spent a little less time describing everything in such intense detail, and didn't drag this book out to 400+ pages, she easily could have made these two books into one big standalone.