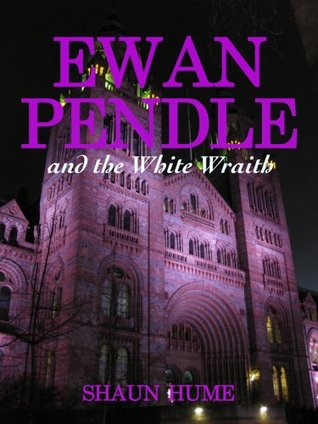 Ewan Pendle was weird. Really weird. At least, that's what everyone told him. Then again, being able to see monsters that no one else could wasn't exactly normal …
Thinking he has been moved off to live with his eleventh foster family, Ewan is instead told he is a Lenitnes, one of an ancient race of peoples who can alone see the real 'Creatures' which inhabit the earth. He is taken in by Enola, the mysterious sword carrying Grand Master of Firedrake Lyceum, a labyrinth of halls and rooms in the middle of London where other children, just like Ewan, go to learn the ways of the Creatures. (via Goodreads)
---
Title: Ewan Pendle and the White Wraith
Author: Shaun Hume
Published: Published July 31st 2013 by Popcorn & Rice Publishing
Note: I was given a free digital copy of this book from the author in exchange for an honest review
Rating: ⭐⭐
Review: Well guys… we have my first DNF of 2017. I definitely feel like I'm in the minority with this book because those who have read it left it amazing ratings on Goodreads.
However, this book just really wasn't for me. I was hesitant going into this book in the first place because it's so heavily compared to Harry Potter. And, I mean, come on, being compared to Harry Potter is a pretty big deal.
The book starts off pretty slow and there is so. much. description. The author describes things so much that there are descriptive run-on sentences. There are a few other grammar mistakes as well.
I also didn't like that the author doesn't use quotation marks to show that someone is talking; that is so annoying to me.
Besides these issues, I also just didn't find the book very engaging. I was fairly bored, and I feel bad that this story wasn't really for me. But like I said, I'm in the minority, other people really enjoyed this book!