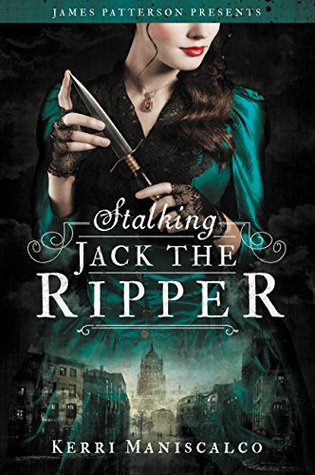 Presented by James Patterson's new children's imprint, this deliciously creepy horror novel has a storyline inspired by the Ripper murders and an unexpected, blood-chilling conclusion…
Seventeen-year-old Audrey Rose Wadsworth was born a lord's daughter, with a life of wealth and privilege stretched out before her. But between the social teas and silk dress fittings, she leads a forbidden secret life.
Against her stern father's wishes and society's expectations, Audrey often slips away to her uncle's laboratory to study the gruesome practice of forensic medicine. When her work on a string of savagely killed corpses drags Audrey into the investigation of a serial murderer, her search for answers brings her close to her own sheltered world.
The story's shocking twists and turns, augmented with real, sinister period photos, will make this dazzling debut from author Kerri Maniscalco impossible to forget. (via Goodreads)
---
Title: Stalking Jack the Ripper (Stalking Jack the Ripper #1)
Author: Kerri Maniscalco
Published: Published September 20th 2016 by Jimmy Patterson
Genre: YA, Historical Fiction, Mystery/Horror
Rating: ⭐⭐⭐.75
Review: A YA novel about Jack the Ripper? Yes, please!
Kerri Maniscalco did an amazing job of getting me hooked right from the first page.
Audrey Rose was a great main character; she was funny and smart, but at times, annoying. I loved the feminism that shined through with Audrey Rose. There were times when she was so bored with the double standards between men and women in the society of the 1880's, which was enjoyable, but it was a little annoying because she very much went back and forth with being "proper" and just being a person.
I was unsure about how I felt with Thomas's character but I really enjoyed him. I liked the rapport between him and Audrey Rose a lot, and I liked watching their romance.
I found myself thinking about the book a lot when I wasn't reading it, and I was always excited to pick it back up. I honestly found the writing to be very good.
The reason it was only 3.75 stars for me was that it did get a little boring towards the middle, however, the story picked back up around page 200 or so.
There was also that whole scene with Audrey Rose, Thomas, and the medium. I don't know really where that came from and I kind of feel like the story could have done without.
I wasn't sure where the ending was going; I thought I had figured it out but Maniscalco threw a plot twist in there and I was wrong. I felt the ending was okay. It did a good job of setting the reader up for book 2, which I am excited to pick up.
All in all, I thought Stalking Jack the Ripper was a unique take on the murders, and I felt it was a great start to the series. I look forward to completing the series and seeing Maniscalco grow as an author.